My Gear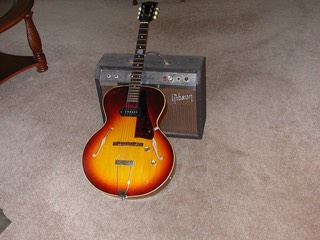 My 1964 Gibson ES-125 Serial #368731 
I purchased it new on March 1, 1966 
from Ray Lammers Music Store, Cincinnati, Ohio
A Gibson ES 125 in Action 
Heart & Soul on Gibson ES 125
How to Wind Strings On Gibson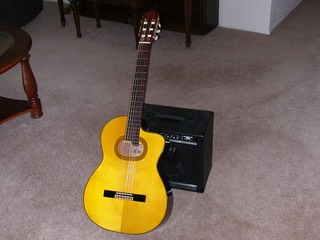 Takamine Classic Electric Model E-30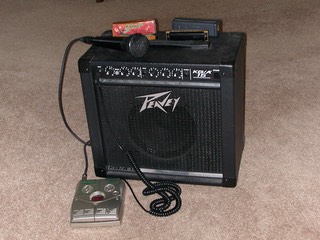 Hohner Harmonics Ready to Jam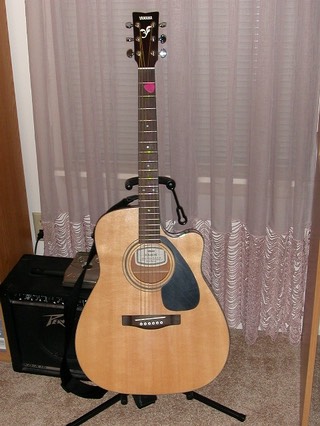 My Yamaha FGX-413SC
Ever since I was a small child music has been an important part of my life. When the Potter family would get together, there were always guitars, jews harps, violins, banjos, harmonics and other instruments there to liven up the festivities. My Uncle Oscar and Uncle Albert played the guitar and harmonica. They knew enough old times songs to keep us going for a long time. Here is an "Ode to My New Guitar." The "Ode" includes a poem from 1993 about my first guitar.    
My Harmonics
The Old Standby Hohner Harmonic laying in front of the red case on the Peavey acoustic amplifier directly above was my Uncle Clayton Potter's. It is a Key of E instrument and plays just fine, even after all these years.  I am proud that it was passed down to me. The black harmonica is a Hohner Pro Harp. I know of none better; it goes with me everywhere I go. Recently I got a Lee Oscar. It is a dream to play. I also play a Lee Oscar. 
My Guitars
I purchased the Gibson ES 125 new, from Lammert's Music Store in Cincinnati, Ohio in the mid 60's. I string it with heavy, flatwound strings. It has ultra low action and is a joy to play. The Takamine sounds great through the little 10W Peavey Acoustic. A Zoom acoustic effects peddle adds real character to the sound. The Zoom's reverb also works great with the Harmonica. The Yamaha FGX-413SC was purchased from Caldwell's Music Store here in Odessa, TX. My wife bought me a VOX DA 15 guitar amp for Christmas 2009. It has awesome tones for a small amp.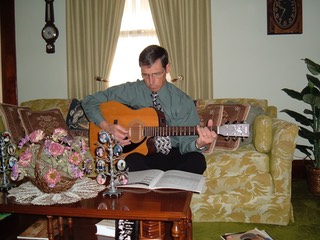 Playing Guitar at my In-laws House in Indiana  
For Your Listening Pleasure
Here is a web site where you can hear some great Classical Guitar music: Classical Guitar 
I had the incomparable opportunity to study Classical Guitar with Mr. Kent Smith at Odessa College, here in Odessa, TX. Mr. Smith taught me from Frederick Noad's Solo Guitar I. This is a wonderful book for building technique and a basic repertory. You can purchase either a cassette or CD of the music in the book. I highly recommend getting the CD. I understand that there is a new CD just available for Volume 2. I have also enjoyed playing the pieces in his Classical Guitar Anthology which has the study pieces Fernando Sor, Mauro Giuliani, Dionisio Aguado, Matteo Carcassi, Ferdinando Carulli, Giulio Regondi, Franz Schubert and others. The Renaissance Anthology is particularly good, and replete with excellent interpretive notes for John Dowland, Francesco da Milano, Luis Milan, Robert Johnson, Anthony Holborne, Jean Baptiste Besard, Luis de Narvaez, Elias Mertel and others. NOTE: Be sure and follow the links at this site: Frederick Noad  Here is Bill Mackillop's Interview with William Bay. 
Mel Bay Publications 
I began my journey into the world of guitar when I studied under Virgil and Ervin Warren at the Aurora Music Center in Aurora, IN. I always appreciate the fact that my parents enabled me to take lessons under these two premier plectrum guitarists. The method used was the Mel Bay Modern Guitar Method. Mr. Bay sought to elevate the guitar to the level of the piano by developing a comprehensive method of instruction that covered all the keys and the harmonica possibilities of the instrument. His method is still available. Many of us hope that his son, William Bay, will eventually produce a CD program for all seven Grades. Yesterday, 4/30/10, I discovered that Mel Bay's Modern Guitar Method has been published in an expanded edition with CDs. Of course, I pulled out my Debit Card and ordered a complete set. Probably the most comprehensive method available today is the one produced by William Bay and Mike Christiansen, Mastering the Guitar. The method is in process of development, but three volumes are already in print. The CD program has some of the best guitar music on the planet. The series covers both pick and fingerstyle. Here is the web site: Mel Bay. Here is a YouTube relating to Mel Bay and his company. Here is my Mel Bay File of materials I have developed to help me master this excellent method. Dark Eyes. Beautiful Dreamer. 
Complete Mel Bay Method for Classic Guitar. This book was a revelation. I had studied Mel Bay's plectrum method in high school, but was surprised to see that many of the duets were played as solo on classic guitar. Immediately added finger style guitar to my repertory. 
The Complete Carcassi Guitar Method Edited by Mel Bay and Joseph Castle. This edition is noteworthy for including the Tarrega right hand fingerings. I have used this since 1988! 
Aaron Shearer Foundation. One of the first classical guitar methods I studied was by Aaron Shearer. The ASE is to be commended for continuing Mr. Shearer's legacy in classical guitar instruction. I have found Aim Directed Movement (ADM) and fixed do solfeggi very helpful. 
GuitarDownunder. This is the find of the decade for Fingerstyle and Classical music. Music in note and tab: free pdf. 
Beginning Guitar Folk Songs: a free PDF by Susan C. Anthony. 
Bluegrass
My high school friend Richard Fletcher and his dad invited me to go with them to Nashville to visit the Grand Old Oprey during my senior year of High School. I enjoyed folk music, but wasn't much into country at the time. I distinctly remember the drive down to Nashville. Richard's dad was a friend of many of the musicians.  We set in the back of the old Ryland auditorium until the local folk left for home, then we moved to the front. I will never forget listening to the likes of Lester Flatt and Earl Scruggs. Yes, I was hooked! Richard's dad even introduced me to some of the musicians. My guitar playing friend, Rodger Huron, and I would listen for hours to Foggy Mountain Breakdown and other instrumentals and songs. Texans were fortunate to be able to listen to the best in Bluegrass on the Bill Myrick show on the local college station every Sunday evening. We are saddened that Mr. Myrick passed away on March 12, 2011. A few years back, it was my pleasuure to hear the Triple "L" Bluegrass Band play at the Andews' Bluegrass Festival. Their website is: wwwe.triplelband.com. 
iPhone users will want to purchase The Guitar Toolkit. 
For some terrific free Online guitar lessons, visit justinguitar.com 
Guitar Press . This is an incredible collections of classical guitar pieces. 
My main instruments are guitar and harmonica, but it was the great guitarist and harmonist, Fernando Sor, who observed, "I think I have completely proved that the knowledge of the thirds and sixths is the foundation of the whole fingering in regard to the guitar. I shall not cease exhorting those who would devote themselves to the study of the guitar, to endeavor to acquire a this knowledge. A guitarist, who is a harmonist, will always have an advantage over one who is not. Even a tolerable player on the pianoforte (the first of instruments to produce harmony), has already acquired very useful musical habits in regards to the guitar. A tolerable pianist cannot be a bad guitarist."
(Method for the Spanish Guitar c1840, Fernando Sor). With this in mind, I recommend that all guitarists take up the study of the piano or other keyboard instrument to improve their knowledge of harmony. www.pianolessons.com is a good place to start. 
On 2/28/15, I got a nice email from Boris Cohaniuc inviting me to link to his marvelous collection of free classical guitar music: Classical Guitar Library. 
We are thankful to Jean-Francois Delcamp for creating what must be the richest collection of classical guitar music on the Internet. Here you will find scores from all the greats along with videos. This is a MUST site. Classical Guitar with Delcamp. 
Rob MacKillop has a wonderful website with lots of very fine guitar videos. 
Andrews Segovia documentary. A superb video documentary concerning the life and work of Andrew Segovia. 
How playing an instrument benefits your brain by Anita Collins. Watching this YouTube video inspired me to double up on my own guitar playing. Whatever your instrument, I invite you to join me in building a better brain.
My YouTube Favorites
Classical Guitarist John Williams. These were chosen because they allow guitar players to study the Williams' technique. 
1. Concierto de Aranjuez 1st Movement 
2. Concierto de Aranjuez 2rd Movement

3. Concierto de Aranjuez 3rd Movement 
Julian Bream's video of the Concierto de Aranjuez. I bought this years ago as a VCR series entitled La Guitarra en españa. It was filmed in Spain. The videos of the landscape are breathtaking. 
1. Concierto de Aranjuez Part 1
2. Concierto de Aranjuez Part 2
Here is a PhD thesis analyzing some of the concert:
Jim Hall lined up a illustrious group of jazz artists in 1975 for a moving Jazz rendition of Rodrigo's Concerto de Aranjuez: Jim Hall: Guitar, Roland Hanna: Piano, Ron Carter: Bass, Steve Gadd: Drums; Chet Baker: Trumpet, Paul Desmond: Alto Saxaphone. I have listened to this hundreds of times. I predict that if you listen to it once, you will listen to it again and again. 
Concierto de Aranjuez: Complete Score I consider this the find of the decade. Guitarist will enjoy playing the guitar part and exploring playing the other instrument parts on the guitar. This is great fun! 
Concierto De Aranjuez: Complete Score. Here is another score. 
If you are not allergic to tablature (I am a note reader!), you will have loads of fun with this solo arrangement of Concerto de Aranjuez. I am overcoming my allergy and making great progress on this well-explained piece. 
You may get a little idea of what Desmond was doing at Fabio Cozzani. 
You will enjoy singing along with this nice vocal rendition: Concierto de Aranjuez: Vocal. 
I enjoy this solo Jazz Guitar rendition of El Concerto de Arenjuez. 

Concerto de Aranjuea - Adagio Fingerstyle Acoustic by Marco Cirillo. Here is Part 2: Adagio. 
John Williams - The Profile Incredibly beautiful music coupled with incredibly beautiful scenery, almost an hour of pure joy. 
Johnny Smith Jazz Guitar. 

1. What are You Doing for the Rest of Your Life. 
2. Moonlight in Vermont with Stan Getz (1955). This is easy listening Jazz Guitar at its best. 
Why some of us play classical guitar every day. 

Fellow Bach lovers will not want to miss John Feeley's interpretation of Bach' Cello Suite #1 in D. Get free guitar score at www.free-score.com. Equally good is Feeley's arrangement and performance of the Bach Chaconne in Dm. This YouTube offers a Front Row Seat to a Master Class Performance for those of us wanting to master the technique necessary to play this piece with true artistry. 
Bach Chaconne in D
By Sanel Redzic. I have found this video particularly valuable because of the closeup of both hands. 
Bach Chaconne in Dm by Matt Smith. Another excellent view of his right and left hands. 
Bach Chaconne in Dm by Matt Palmer. A technically and artistically brilliant interpretation of this Bach masterpiece. Be prepared for the listening experience of a lifetime. Here is a live performance by Matt live in Denver: Chaconne. 
Chaconne in Dm arrange for guitar by Forbes Henderson: Part 1; Part 2. Very nice because it gives us guitar players a close up of his fingering. His fingering opens wonderful possibilities for using vibrato in the upper register. 
Here is Thomas Konigs' 2005 transcription Chaconne in Dm. The fingerings are excellent for the intermediate level student. 
Here is a great find for all Bach Chaconne lovers: YouTube Scrolling Transcription and audio. 
I have found the following analysis very helpful: Bach's Chaconne in Dm for solo violin: An application through analysis. 
I am thrilled to be able to post this link to Segovia's very own transcription: Segovia's Chaconne. It is notable for the helpful indications of fingers and slurs. Many other fine pieces are available from Dave´s Classical Guitar Site. 
These videos teach various parts of the Chaconne. The fingering is a bit different from what I am used to using. I never thought I would ever be able to play the Chaconne, but the sheer beauty of the piece daily draws me to practice section after section. It is one thing to experience the piece with the ear alone, and another - and richer -  to experience it through the tips of the fingers. Opening Chords More of the opening.  
The Process of Transcription for Guitar of J. S. Bach Chaconne from Partida II for Violin Without Accompaniment BWV 1004 by Rodolfo J. Betancourt. A very nice transcription with in-depth analysis. 
Dave Brubeck's "Take Five" for Guitar. I enjoy watching the player tracking Paul Desmond's saxophone part on his Peerless Monarch arch top. It is great fun to follow along on my guitar. I have loved Brubeck since high school, and got hear him once live at Indiana University when I was a student there. Take Five Chord and Solo. 
Here is a incredibly helpful 5 minute Guitar Lesson on Take Five. 
Douglas Niedt is a virtual one man jazz band: Take Five. 
Take 5 for Guitar with Free TAB and Backing Track. 
Jazz at Lincoln Center's JAZZ ACADEMY: Take Five: Celebrating the Dave Brubeck Quarter. 
For those, like me, who know Spanish here is a wonderful study of Take Five for the Guitar.Here is another Take Five view. 
If you like Brubeck, like I do, listen to New West Guitar Group jamming on "Blue Rondo a la Turk." And here is a classical guitar interpretation of "Blue Rhonda a la Turk."
In a letter to Clara Schumann, Brahms wrote, "The Chaconne is the most wonderful, unfathomable piece of music. On one stave, for a small instrument, the man writes a whole world of the deepest thoughts and most powerful feelings. If I imagined that I could have created, even conceived the piece, I am quite certain that the excess of excitement and earth shattering experience would have driven me out of my mind." 
Denis Azabagi teaches Bach Chaconne. Here you can watch a lesson on how to play the Chaconne on a classical guitar. 
Bach Chaconne played by Ben Verdery: An interpretation celebrating, the earth, ocean, and sky. 
Tablatura Guitarra Bach: Chaconne por Jesús Amaya. This is a tremendous help with fingering since it includes notes and tab. 
Segovia Plays Bach's Chaconne (Read along) This is Segovia's own transcription scrolled as Segovia plays in the background. You see the score, but not Segovia playing. It is fun to play along with the top notes and double stops, etc. Not for concert maybe, but for lots of fun at home. 
Bach Chaconne BMV 1004 by Paul Palmer Guitar. I started playing along with this thinking it was a simplified version for guitar, but it turns out that the onscreen score is Bach's own violin version. Much of it can be played on a plectrum guitar with a little rearrangement of some of the notes. 
Rudolf J. Betancourt's 1999 Master's Thesis Transcribing the Bach Chaconne. This includes a playable transcription. 
Fans of Mel Bay's Modern Guitar Method will appreciate Rob MacKillop's video for Mel's plectrum arrangement for Tarrega's "Adelita." 
I recommend that all my tutoring students take up a musical instrument because of the positive impact learning to enjoy and play music can have on language processing. Here is an article explaining the research:  Musical Training Helps People Process Language More Efficiently. 
The famed classical guitarist, Richard Pick, wrote, "It has been generally observed that students who have training in music and playing some music instrument consistently attain higher scholastic achievement than their non-musical peers. This again illustrates the practical values of counseling and encouraging students to study music whatever their ultimate goal may be. Richard Pick's School of Classical Guitar, p. 24. 

The Whole Brain Shortcut to Guitar Mastery by Michael J. Lavery 
Cord Melody Playing Explained. Enjoy an explanation of melody chord playing and listen to some really fine music. 
Ben Bolt explains techniques of playing classical guitar. Mel Bay Anyone Can Play Classical Guitar. It reminds me of my classical guitar instructor, Kent Smith, helping me overcome many bad habits I had acquired trying to teach myself. Thanks, Kent!
Here is some fascinating information on Dave Brubeck, Johnny Smith, and Django Reinhardt. 
How Playing an Instrument Benefits Your Brain by Anita Collins. 
Practicing: A Musician's Return to Music (2007) by Glenn Kurtz. A thrilling book about getting back in music after getting out of it. I read it at one setting, and bet you will, too. 
 The following perfect Shakespearean sonnet is by Richard Barnfield, Dowland's contemporary, refers to him in poem VIII of "The Passionate Pilgrim" (1598). I seem to be somewhere caught between the "heavenly touch" and the "deep conceit."
If music and sweet poetry agree,
As they must needs, the sister and the brother,
Then must the love be great 'twixt thee and me,
Because thou lovest the one, and I the other.

Dowland to thee is dear, whose heavenly touch
Upon the lute doth ravish human sense;
Spenser to me, whose deep conceit is such
As, passing all conceit, needs no defence.

Thou lovest to hear the sweet melodious sound
That Phoebus' lute, the queen of music, makes;
And I in deep delight am chiefly drown'd
When as himself to singing he betakes.

One god is god of both, as poets feign;
One knight loves both, and both in thee remain.
— Richard Barnfield, The Passionate Pilgrim
For a sure-to-be-habit-forming-introduction to Dowland, I suggest "Now, Oh, Now.
More information on Lute Playing.       
The George Van Eps Method for Guitar. My copy was published by Mel Bay. Its deals with harmonized chord scales, harmonica mechanisms, and voice leading chords. Here is the late Harris Stephens Guitar Man: The Story of George Van Eps. 
Modern Guitarist Handbook: Runs, Modulations & Fill-Ins by Harry Volpe and Frank Victor.
The Guitar Book: For Those Who Have Just Landed on the Planet Earth! by Chris Lopez. Excellent book. 
You Can Teach Yourself Classical Guitar (1994) by William Bay. A good method with lots of music to play. 
The Natural Classical Guitar: The Principles of Effortless Playing (1984) buy Lee F. Ryan. A delightful approach with a nice change of pace. I found this quite helpful when it first came out. 
The Classical Guitar (1976) Frederick Noad. Excellent selection.
The Renaissance Guitar (1974) by Frederick Noad. Greensleeves by Francis Cutting. Guardame Las Vacas by Luis de Navarez. I have spent many joy filled hours over the years playing these two pieces. 
Playing the Guitar by Frederick M. Noad. Loaded with great material for learning almost all types of guitar styles 
Carulli Etude in Dm with score and music. One of my all-time favorites. 
Special Video Section for MEL BAY MODERN GUITAR METHOD
Grade 1:
Shenandoah  Home on the Range  Home on the Range 2  Buffalo Gals  Serenade  Lament  Red River Valley 
Cockles and Mussels   Play Time   Night Song  Sor Waltz  Cindy  Bluegrass Waltz   When the Saints Go Marchin' In
Blue Bells of Scotland  Home Home Can I Forget Thee 
Grade 2:
Wade in the Water  Terry's Tune  Barcelona  Señorita  Tarantella  Juanita  Cielito Lindo  Careless Love  The Happy Farmer  
Grade 3: 
Taranto  Melody in F    Air by Mozart  Maria   
Grade 4:
In the Hall of the Mountain King   Minuetto by Pleyel   Shadows  Beautiful Dreamer  Coventry Carol 
Grade 5:
You Tell Me Your Dream   Dark Eyes  Hungarian Dance    Mighty Lak' a Rose   Mighy Lak' a Rose  Love Song  Traumeri  
Grade 6:
Grade 7:
My Cherished Prelude   My Cherished Prelude  My Cherished Prelude  
A Cappella Singing
Here is a shaped note singing lesson from the Smithsonian Institute: A Shaped Note Singing Lesson.
A Sacred Harp Harmony: A Part-Writing Primer for Shaped Note Harmony (2009) by Robert T. Kelley. 
A Beginner's Guide to Shape-Note Singing: Lisa Grayson 
Shape-Note Hymnody as a Source of Material for Modern and Post-Modern Choral Art Music (2014) by David C. Guthrie.
A History of Great Songs of the Church by Forrest  M. McCann. I grew up singing from the round-note version of this hymnal. 
Fundamentals of Church Music Theory: An elementary study of music theory as it applies to the church (1993, 2009) by James Tackett.  
Studies in the Harmony of Church Music Part 1 (2007) by James Tackett. This is a very valuable study. Studies in the Harmony of Church Music Part 2. 
Shape Note. Wikipedia article.  
Sacred Harp & Related Shape-Note Resources by Steven L. Sabol. Perhaps the riches source of information on the Sacred Harp.