A busy pencil leads to an engaged mind and enhanced learning. 
 Don Potter 3/26/12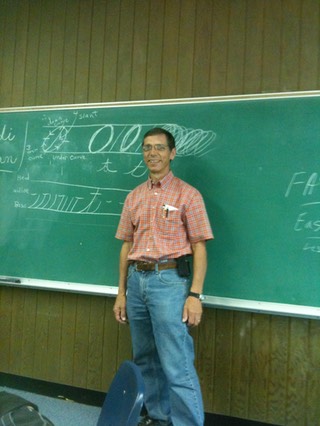 Don doing what he likes best - Teaching Cursive  
Handwriting is the Hands-On Way that Children Learn to Read
and
Cursive Does It Best
Romald Spalding was right when she wrote in the 1957 original edition of The Writing Road to Reading, "The teaching of writing should precede reading. This is fundamental. It is the only approach to the printed or written word that is clear and understandable to all children….I should like to say at this point that good and facile handwriting is a most important part of language. The lack of it is a constant handicap. It can be quickly acquired only if correct and exact techniques are used from the start, and well maintained at all times." (WRTR, 1957, p. 67) She also wrote."If letters are made incorrectly, they are mentally pictured incorrectly also. This is a serious cause of failure in both reading and written spelling. It develops dyslexia or perceptual handicap." (WRTR, 1990)  
Don Potter's Alphabet Fluency Program. This may be the most important document on my website. Here are some Alphabet Strips I made to help develop letter-name identification fluency. 

 Shortcut to Cursive (2013) by Donald L. Potter. I developed this streamlined yet comprehensive method for new students coming to my school, where cursive is the only form of writing used from kindergarten up. I am preparing more detailed instruction which will explain how to join letters and develop fluency. This document was produced with the font from Educational Fontware, Inc. www.educationalfontware.co. I have used the program with a wide variety of student in whole-class and private tutoring with great success. Here are my Shortcut to Cursive Flashcards. Here is a sample of one of my student's cursive, it was a gift for my 68 birthday on March 20, 2015: Annie's Birthday Letter.  Foundations Press has created a fine Workbook for Shortcut to Cursive. 

Fundamentals of Cursive (2017). This brief introduction to the fundamentals cursive handwriting is for parents, teachers, and students. It explains several cursive styles and will be a great help to anyone interested in teaching cursive to students of any age. Here is the Fundamentals of Cursive Training Video. 
Direct Path to Cursive: (2014) by Donald Potter. This is a shorter version of my Shortcut to Cursive, It is a comprehensive program which is even more streamlined than my earlier Shortcut to Cursive. Here is a document that I wrote on January 3, 2014 explaining how to develop "batch processing" in cursive handwriting: Cursive Fluency.  
Shortcut to Manuscript: This is the manuscript method that I use when teaching student from classrooms that are not teaching cursive.  Overall I am deeply disappointed in the handwriting of the students coming to me for tutoring, the dismal results of which I am convinced are due to the deplorable lack of teacher training in handwriting. My method will prove immensely helpful to any teacher who will follow it. Here is my Teacher Training VideoTraining Video for Right Handed Students for Shortcut to Manuscript. Here is my . Here is my Training Video for Left Handed Students. This Spalding Manuscript Writing document is similar to my method. 
Spalding approach to manuscript. This is the newer method introduced sometime after 1957. The original used a midline. 
Here is Dr. Robert Rose's book, Forget the Bell Curve. Mr. Rose maintains that early letter writing fluency is the key to early reading success. I have found a very close correlation between alphabet writing fluency and reading ability in my tutoring students. Here are some materials I have developed for helping students develop fluent alphabet letter writing and identification ability. Here is a Spanish translation of Mr. Rose's thesis. The Writing/Reading Connections (2004) by Dr. Bob Rose. 

Fountain Pen lovers may find it interesting that Albert Einstein used both a Pelikan 100 N and a Waterman Taper-cap Fountain Pen which he used to develop the Theory of Relativity. The Waterman pen is on display at the Boerhaave Museum in Leiden. JRR Tolkein hand wrote and annotated most of his writing, we know that he used a dip pen with an Esterbrook #314 nib. Stephen King professed his love for Waterman fountain pens by writing at the back of his book, "This book was written with the world's finest word processor, a Waterman cartridge fountain pen. King's pen choice was the Waterman Hemisphere, which offers an elegant, slim shape with chiseled detailing. C. S. Lewis used a fountain pen for a while but switched back to a dip pen because pausing tto dip the pen in an inkwell provided exactly the rhythm needed.
Handwriting is Important (1963) video. Contains lots of valuable information. 
Writing SOS: With today's technology is handwriting important? by William Van Cleave. Here is a longer and more detailed discussion with Dr. Van Cleave including the importance of direct handwriting instruction. He passed away on April 20, 2021. I was preivilaged participate in one Online class with him. Can find more Van Cleave Training Videos on Vimeo. 
Peterson Directed Handwriting (2010) by Randy Nelson. This material is for manuscript. Here is his material for cursive. 
Zaner-Bloser Handwriting Templates. These are templates for Grade K through 2nd. 
Zaner-Bloser Handwriting Strokes for Cursive. 
The Simple View of Writing: Transcription & Composition (Feb. 23,2021) by Amy Siracusano, Hosted by Zaner-Bloser.  This webinar is up-to-date with the latest research finding. I highly recommend it. 
Here is my YouTube reading of J. Richard Gentry's excellent 2016 Psychology Today post, "5-Brained Based Reasons for Teaching Handwriting in School."
I am proud to announce that three of my Shortcut to Cursive students won the 2015 Cursive is Cool International Cursive Handwriting Competition. I was deeply honored to learn that I had won the Outstanding Teacher of the Year. In 2016 six of my students placed in the completion, three won first place! Five placed in 2016-2017! Here are the 3 cursive winners in 2018. Here is a recent Cursive is Cool White Paper, "Why handwriting remains essential in 2021 and the future" by Jane Yank, PhD. Last Monday (Oct 30, 2023) one of my tutoring boys exhibited the perfect grip and high level fine motor skills for superior cursive handwriting. We plan to enter the Cursive is Cool competition in April. This will be the first time one of my students has entered the competition since 2018. 
Here are intereting worksheets for "Spalding Cusive." 
For an excellent disposable fountain pen, I recommend the Pilot Varsity. 
Printing Teacher's Guide for Handwriting Without Tears. I like their manuscript program better than the cursive. 
America Handwriting by Coopos. 
Ted Presentation on Why Write? Penmanship for the 21 Century. Here is an insightful quote, "The greater we grow our dependency on technology we may soon find that we have created the most technologically advanced way of creating illiteracy." 
Diana Hambury King (2014) Learning Cursive: Handwriting for right-handed elementary students. One of the best explanations of how to teach cursive you will find anywhere. I like every letter form except the abbreviated v. 
Samuel L. Blumenfeld maintains that we should start children writing with Cursive First, just as everyone in America learned to write before 1923. I totally agree, especially since I was taught Cursive First when I began school in 1953. Here is my Alpha-Phonics Cursive, with can be used with Alpha-Phonics or Blumenfeld Alpha-Phonics. 

Cursive Knowledge. An inexpensive one volume approach to learning and teaching cursive. 
Movement Exercises. These are exercises of the highest order. I practice them some everyday to stay at the top of my game. 
Peterson Handwriting: Good handwriting and good reading go together, both should be automated in order to free up the mind for good comprehension and creative composition. The Peterson Handwriting Company has done some highly sophisticated research into process of automated handwriting. Visit their web site at: Peterson Handwriting. They have published a REVIEW COPY of their entire program at: Handwriting - The Complete Program. Here is a must-see video training session with Randy Nelson: How to. Matthew McNatt has written that, "Just as well-taught writing can help students' reading, poorly taught writing can hinder students' reading." Read his comments on the effectiveness of the Peterson Method at the McNatt Learning Center. Be sure and see Randy Nelson's Handwriting for Literacy blog. We are currently encouraging teachers to measure students' ABC writing fluency to see how it impacts early reading development. We expect a close positive correlation. Peterson 2nd Grade. Here is a fun video teaching Peterson Manuscript. 
Blend Phonics Lessons and Stories: Cursive Edition. Cursive only becomes an effective tool of thought and interpersonal communications when the students feel comfortable writing and READING it. Students who finish this powerful phonics method will become so highly skilled at reading cursive that it will become their writing method of choice. 
Word Mastery Cursive (2014). This is a new edition of Florence Akin's 1913 Word Mastery phonics program for the first three grades that I have converted to cursive print. It is the perfect tool for teaching anyone to read cursive writing. The cursive style is basically Palmer.  
First Readers Anthology: Cursive Edition (2014). This paperback book contains 11 decodable readers that take students from simple short vowel words to advanced English orthographic structures. It is a perfect companion to my Direct Path to Cursive and My Word Mastery Cursive. The text is in Standard America Cursive (Palmer). 
Here is Dr. Duke Presta's brief but powerful video explaining why Project Freedom Academy includes cursive in their classical homeschool curriculum: Importance of Cursive Handwriting.  
Zaner-Bloser Handwriting Practice Sheets. Excellent material, reviewing manuscript but focusing one cursive. To be used in conjunction with the textbooks. Lowercase Alphabet using Writing Wizard App, very helpful for reinforcing Zaner Bloser block-letter manuscript strokes. Here is a document I created for teaching the Zaner-Bloser Strokes. 
Cursive Logic: Writing by hand makes children smarter by Linda Shrewbury. This is a very attractive approach to writing cursive. I agree 100% with the subtitle of Linda's book. The neglect of teaching cursive handwriting is a significant factor in the decline of literacy in America today. 
Read Cursive Fast - Learn to Read Cursive, Historical Documents, and Notes Even if You Don't Write by Hand (2021) by Kate Gladstone. In an era where education has neglected the essential skill of cursive handwriting, this is truly a book for our time. 
Perfect Pemnanship with Michael J. Lavery. I was born right handed, but I have taught myself to write left handed and in mirror image. I have also taught children to do the samething following Lavery's basic ideas. Perfect Penmanship exercises - Boustrophedon stye. Here is his book Whole Brain Power. 
Laubach Way to Cursive Writing (2011) This is the Teacher's Guide with all the information on how to teach and evaluate cursive handwriting. 
Handwriting is Important (1963) Avis Films. An excellent instructional video. 
Teaching Cursive Writing in the First Year of Primary School: Effect on Reading and writing Skills (2019) by Christian Someraro, Gabrielle Coppola, Rodalinda Cassibba, Daniela Lucangeli. Argues that research indicates that teaching cursive from the start of a child's education is best. I agree 100%, but doubt that many schools have teachers properly trained to teach it. I have taught kindergarten classes to write fluent cursive. The catch is "teachers with proper training." 
Commercial Course in Handwriting for Junior and Senior High Schools (1930) by Commonwealth of Pennsylvania Department of Public Instruction. A lot of really useful information. 
Neurokinesthetic Approach to Hand Function and Handwriting by Mary Benbow. A very important paper that demands and merits close reading. 
Creating Better Readers and Writers: The Importance of Direct, Systematic Spelling and Handwriting in Improving Academic Performance (2010) by J. Richard Gentry, PhD., and Steve Graham. Ed.D. A very important paper by leaders in the field. Here is my Youtube video introducing Creating Better Readers and Writers. 
The Importance of Handwriting Experience on the Development of the Literate Brain (2017) by Karin H. James
WISE OWL Cursive Practice Sentences (2015). Here are 412 sentences I wrote years ago for teaching reading to bilingual students. They are repurposed here to help students develop cursive handwriting fluency. I am proud to make this powerful program available to parents and teachers interested in cursive sentences for copy work. 
How to Teach Cursive Letters: The Occupational Therapy Toolbox. This website offers a plethora of practical suggestions for teaching cursive, grip, etc. 
Laubach Way to Cursive Writing: Teacher's Guide (1983) by Kay Koschink. A lot of practical information. 
"Brain activation patterns resulting from learning letter forms through active self-production and passive observation in young children" by Alyssa J. Kersey and Karin H. James. This scholarly study verify that active self-production (of letters) leads to better perception of letters (the foundation of reading and spelling) better than just watching someone write the letters. The impact of cursive writing on young children just learning cursive is also discussed. I should like to know how such a study would turn out if my highly fluent cursive-first kindergarten students were tested.  
"Handwriting generates variable visual input to facilitate symbol learning" (2016). This is another paper by Karin H. James concerning why handwriting lead to better letter recognition. It seems it is important to vary the written and visual forms and copying without tracing leads to the best results. I speculate that teaching both cursive and manuscript would be an ideal way to do this. 
 Here is a document by Team Cursive for teaching the the Cursive Alphabet in ABC Order. It can also be used of manuscript. 
Handwriting in Important (1963) Good video
Learning Cursive (2014) by Diana Hanburgy King and Karen K. Leopold. 
A Farewell to  Handwriting? Actually a history. 
Better Handwriting in 30 Days (1989) by Paula A. Sassi. An excellent book. 
Teaching Cursive: A Method that Works! by Linda Corson.  From the samples of the cursive and description of the program, I gather that this is a good one. The program takes 56 days at 10 minutes per day. I suppose it could be taught faster if more time each day were dedicated. There are no workbooks, so this is a direct instruction rather than trace and copy program. 
The Contribution of Handwriting and Spelling on Remediation to Overcome Dyslexia (2012) by Diane Montgomery. A highly technical paper advocating cursive-first. 
Quill pens are better than you might think. You can purchase precut Quill Pens from Dennis Ruud.
Kentucky Educational Television has an excellent set of DVD's that teach cursive handwriting. They cost $60.00 for a set plus S/H. KET Media Services, 600 Cooper Drive, Lexington, Ky 40502-2296. Phone (800) 945-9167. You can also watch the videos for free Online.  
Spencerian Key to Practical Penmanship (1866). This is the complete manual for this lovely form of cursive. 
Materials for teaching Romalda Spalding's Manuscript Handwriting. Here is Spalding Cursive; 
Handwriting in the 21st Century? An Educational Summit. A meeting of 150 researchers and educators met in Washington on January 23, 2012 to discuss the tragic decline in handwriting instruction and its dire consequences. 
Video on using a dip pen from ThePen.Pro. Here is the Wiki article: Dip Pens. Here is a Detailed Introduction to Using Dip Pens. My father learned to write with a dip pen. My favorite dip pen nib (and the favorite of my students) for cursive is the Manuscript Leonardt 300 Ballpoint Nib. Here is the Manuscript Catalog. 
Dr. Karen Harman James is doing significant neurological research into handwriting and cursive at Indiana University. Printing, cursive, keyboarding: What's the difference when it comes to learning? Here is her important 2012 paper, "The effects of handwriting experience on functional brain development in pre-literate children." 
The relationships between handwriting, reading, fine motor and visual-motor skills in kindergartners (2010) by Gloria Jean Clark. This study makes some good points, but brings up more questions than it answers. I should like to conduct a study using my Alphabet Fluency Program and Cursive-First to establish the existence of a strong relationships between alphabet writing and identification fluency and reading ability. 
The influence of writing practice on letter recognition in preschool children: A comparison between handwriting and typing (2005) by Longcamp, et. al. Acta Psychologica. 

"Strategies to Develop Handwriting Improve Literacy Skills" An excellent article that I first read on August 10, 2021, which introduced me to The Simple View of Writing. Here's a link to a summary of the 2012 Handwriting Summit. Here are the Supporting Videos. 
Here is an importance article on handwriting and literacy, Digitizing Literacy: Reflections on the Haptics of Writing by Anne Mangen and Jean-Luc Velay. 
Here is a link to the once famous Palmer Method (1915). Teacher's guide for the Palmer Method. Here is the 1935 Palmer Method of Business Writing. The Palmer's Penmanship Budget (1919) is very complete. Perhaps the best introduction to Palmer is his Self-Instruction in Modern Writing; A Complete School of Penmanship at Home: Muscular Movement - Its Development and Application. Palmer Guide to Business Writing (1894). Here is a marvelous YouTube clip demonstrating how the Palmer letters are made. A very nice new website is promoting the Palmer method: www.palmermethod.org. I wish them well in promoting Palmer's great cursive method. 
I like this 1866 method by my namesake, S. A. Potter, Penmanship Explained. 
For the technically inclined, be sure and read "Submovment Analysis in Learning Cursive Handwriting or Block Print" by H. L. Teulings (2003). The upshot of the study is that improvement in fluency of block print (manuscript) tapers off rapidly with repeated practice, whereas cursive fluency continues to improve with no tapering off. 
Here is a good link to some old handwriting methods: Nib. 

Here is the Zaner method of cursive handwriting and a lot of other school ideas from 1921: Zaner Penmanship. 
YouTube Clip for teaching left-handed students. 
MAcLean Method of Muscular Arm Movement Writing for 3rd Grade. A very good method. Here is his 4th grade program.
Public School Penmanship: A Handbook for Teachers. 1909. 
Manual of Free-hand Penmanship, 1877. 
How to Teach Writing, 1892. 
Lessons in Ornamental Penmanship by Parker Zaner Bloser (1948). This excellent book teaches cursive in ABC order, providing that I didn't invent the idea, although I had never seen it before I started teaching it. 
The Theory and Practice of Handwriting, 1897. This is a theoretical and practical book advocating vertical penmanship. I prefer slant cursive, but this is a good description of vertical cursive. 
Here is a very satisfactory handwriting method with complete details: Complete Manual of Commercial Penmanship, 1893. 

Graphics: A Manual of Drawing and Writing (1835). 

HAND-BOOK TO ACCOMPANY THE ECLECTIC SYSTEM OF PENMANSHIP (1870). 
ERIC ARTICLES:  Here is an ERIC document: Communicating Through Handwriting: Handbook for Manuscript and Cursive Handwriting. Another Eric document: Research on Handwriting and Spelling. Handwriting Evaluation. Literature on The Evaluation of Handwriting. Research Survey (1977)
ERIC article by Donald Thurber (1983), D'Nealian Manuscript--An Aid To Reading Development"
You can create Zaner-Bloser Cursive Handwriting sheets at ABFontsOnline. 
The Arm Movement Method of Rapid Writing: Rural School Primary Manual (1915) by C. P. Zaner. The standard from which modern method can be judged. 
Jeanette Farmer shows how multi-sensory handwriting handwriting training is a safe alternative to Ritalin: Retrain the Brain. Jeanette was one of the main people who motivated me to develop my Cursive Road to Reading and Spelling Program to help children with ADHD. Mrs. Farmer passed away recently, but her daughter is continuing to maintain the website and sell her materials. 
Graded Movement Writing for Beginners (1910) by Margaret M. Hughes. 
Lessons in Practical Penmanship by H. P Behrensmeyer. An excellent well illustrated method. 
A Text-Book on Penmanship: Containing All the Established Rules and Principles of the Art (1862) by Henry William Ellisworth. A profound book on philosophy, aesthetics, and practice of handwriting.  
Muscular Movement Writing Manual (1921) by C. C. Lister - a superb work. 
Manual of Fundamentals for the Teaching of Handwriting in the Public Schools (1918) by Tom Sawyier. 
Graded Movement Exercises - very valuable and lots of fun for the kids. 
Psychology and Pedagogy of Writing by Mary E. Thompson (1911). 
Public School Penmanship: A Handbook for Teachers (1909) by Albert Willistine Clark is loaded with exercises. 
The Teaching of Handwriting (1914) by Frank N. Freeman. Freeman, also published as series of four articles on handwriting in the Elementary School Journal: A Course in Handwriting. His 1918 The Handwriting Movement: A Study of the Motor Factors of Excellence in Penmanship is a classic study. 
Complete Manual of Commercial Penmanship (1893) by Clarence E. Spayd. 
How to Teach Writing: A Manual of Penmanship Designed to Accompany Appleton's Standard Copy Books (1892) by Lyman D. Smith. 
Luthy's Scientific Handwriting being an Analysis of Roman Script Form and execution (1918). 
The Art of Handwriting. Ames' Guide to Self-Instruction in Practical and Artistic Penmanship (1884) by Daniel T. Ames. 
Far and away the BEST exercise book for cursive is The Champion Method of Practical Business Writing by Mary L. Champion. Teachers using cursive exercises for curing ADHD will find this book most helpful. I use the drills every day in my classes. 
The Psychology and Pedagogy of Handwriting (1920) D. E. Hamilton. 
Wesco Writing System (1939) by John A. Wesco. 
Here is C. P. Zāner's justly famous The Arm Movement Method of Rapid Writing (1904). 
The Payson, Duton & Scribner Manual of Penmanship (1872). 
Penmanship: Determining the Achievement of Elementary School Graduates in Handwriting (1916). 
Walker Method of Writing for Public and Private Schools (1922): One of the most useful books on handwriting ever published. 
"Handwriting, Posture and the Use of Pencil Gripper" (1991) by Dennis Hoover. 
Kinesthetic Approach to Handwriting (1998) by Mary Benbow. 
Supervision and Teaching of Handwriting (1926) Joseph S. Taylor. 
English Handwriting 1500-1700. 
The Young Clerk's Assistant Penmanship Made Easy Instructive and Entertaining: Being a Complete Copybook , Neatly Engraved for the Practice of Youth in the Art of Writing. London, 1787. 
Penmanship Made Easy (1919) by Edward Summers Squier. M.A. A most delightful and helpful textbook. 
Here is the 1918 New York City Penmanship Scale. 
Penmanship: Determining the Achievement of Elementary School Graduates in Handwriting (1916). 
A Handbook to Accompany the Eclectic System of Penmanship (1870). 
Pencil Grip: A Descriptive Model and Four Empirical Studies (2003) by Ann-Sofie Selin. 
Dr. Patrick Groff: Handwriting and its Relationship to Spelling. 
Writing to Read: Evidence for How Writing Can Improve Reading by Steven Graham and Michael Herbert. 
The Art of Writing  (c1813) by John Jenkins. A wonderful book on American Cursive. Endorsed by Ezra Styles, Timothy Dwight and other luminaries of the time. 
The Teaching of Penmanship  (1913) Harry Houston. 
Ontario Writing Course (1916). An excellent method, very helpful. 
 Handwriting Scale. A rubric for grading cursive handwriting. Attempts to set objective paramaters. 
 Believe it or not, Wikapedia has a rather scholarly article on the Palmer Method. 
"Unconscious deciphering handwriting: Subliminal invariance for handwritten word in the visual word form area" (2009), Neuroimaging.  
The Effect of the Handwriting Without Tears Program On Student Cursive Writing Achievement At Central Institute for the Deaf (2008) by Julie A. Galanis. This study is very interesting. I should like to register my personal preference for Standard America Slant Cursive over vertical cursive, believing that the slant is conducive to improved left to right fluency. The supposed benefits of vertical cursive being similar to vertical print is of no concern to me since I advocate cursive-first. 
Effects of Stimulus Distance on Children's Handwriting Copying Performance (1990) by Kay Francis Walker. An interesting PhD thesis. I suspect that cursive-first students would have much better copying ability at any distance. 
The Contribution of Handwriting and Spelling Remediation to Overcome Dyslexia (2012) by Diane Montgomery. This paper is pretty close to what have found successful when working with people said to have dyslexia. The main focus of my instruction is handwriting (cursive) and spelling (phonics w/letter names). 
Here is a comment (lament) from American Magazine on the decline in cursive handwriting. I taught Spanish in junior high for two years. Although I have very good chalkboard cursive, probably half my students were unable to read cursive. This is for a school district and in a state (Texas) that supposedly requires all students to learn cursive. Evidently many elementary teachers have jumped the gun and taken it upon themselves to eliminate cursive, which act I consider a serious attack on academic achievement and the important continuity of our rich cultural heritage. Yet, this same district uses cursive to help the student that didn't get cursive to overcome dyslexia. If it is good for dyslexics, why isn't it good for everyone? 
An Experimental Study of a New Approach to Manuscript Writing (1946) by Mary Madeleine Adamczky. While I do not agree with the methodology or conclusions of this study, it is historically important. 
Handwriting at Elementary Level in Santa Fe Public Schools (2007) by Sarah J. Lescht. I should like to do a similar study for my school district; the results of which, I assure you, would be shocking. 
Enhancing alphabet knowledge instruction: Research implications and practical strategies for early childhood educators (2012) by Cindy D. Jones, Sarah K. Clark, and D. Ray Reutzel. 
A Scale for Measuring the Quality of Handwriting of School Children (1912) by Leonard P. Ayres. A Superb method of measuring cursive handwriting ability, with a rubric. 
A Scale for Measuring the Quality of Handwriting of Adults (1915). Another excellent book by Leonard P. Ayres of great value for measuring cursive performance. 
Teaching Reading & Writing with Cursive First: Podcast with Liz FitzGerald. 
Campaign for Handwriting: Main Site, Blog. Annie N., one of our 3rd grade girls, won the 3rd grade girl cursive championship for 2014. I am proud to have been her cursive handwriting teacher. 
The Missing Link: The Lost Art of Handwriting (2012) by Philip Hensher. A deep reflections on the loss of handwriting. 
Properly Gripping a Pencil by Richard McManus. 
The Effect of Transition from Manuscript to Cursive Writing upon Subsequent Performance in Handwriting, Spelling and Reading by Wayne Otto and G. Lawrence Rarick (1968).  The significant conclusion of the study was, "Although the impact of manuscript writing upon initial symbol perception is not fully clarified by this investigation, there appears to be support for reconsideration of the effect of introduction cursive writing in first grade upon symbol perception in reading. in view of the fact that (a) there is little evidence to indicate that manuscript writing has a positive effect upon symbol perception and (b) the ultimate objective continues to be cursive writing, the introduction of cursive in grade one would appear defensible, at least in terms of its impact upon reading performance." In other words, cursive taught in first grade at least did not have a detirious effect on word perception.
RECENT TRENDS IN THE TEACHING OF HANDWRITING IN THE ELEMENTARY SCHOOL (1962) by Bonnie Marie Simms. This Master's Report contains a lot of very hard to get information. I thoroughly disagree with the recommendation to jettison cursive entirely from the elementary curriculum, but include the report because of the plethora of references and to  give a balanced representation of opinions. 
Handwriting versus typewriting: Effect on word recall (2015). This is a thoughtful research paper that suggests that handwriting offers district advantages over typewriting (keyboarding) for cognitive development. 
Improve Your Cursive Handwriting. This is an excellent YouTube presentation. It gives suggestions for improving cursive, but is not a definite system. 
The Contribution of Handwriting and Spelling Remediation to Overcome Dyslexia by Diane Montgomery. 
Worksheets for teaching Uppercase Manuscript. 
Handwriting Fluency in Kindergarten: :Exploring the issue of time by Mary M. Sears (2014) This interesting paper asks whether handwriting fluency test of 15 seconds or 60 seconds are best. The author concludes that 60 seconds gives a more accurate score. Personally I prefer to time how long it takes the students to write the entire alphabet from a to z and divide 1560 by the seconds to get the letters per minute. The 15 second test makes no sense to me because no kindergarten can write the entire alphabet in 15 seconds! 
Mary Pecci's At Last! A Reading Method for EVERY Child has some excellent material on handwriting and letter recognition. 
Videos for learning proper pencil grip and letter formation.
1. Grip for kindergarten. 
2. Lowercase Cursive. 
3. Teach Children How to Hold a Pencil Correctly Tutorial. Correct, detailed, very helpful.  
Assessing Handwriting Achievement (2001) Ediger Marlow. A very interesting Opinion Paper with historical information on handwriting in America. 
The Attitudes of Primary School Pre-Service Teachers towards Cursive Handwriting (2014). Rahuan Karadă. Some intriguing information. 
Understanding How the Brain Controls Drawing and Handwriting. 
Handwriting: How to improve it FAST using tips and techniques to make it Cute for card sentiments! by Jan Evers. This is a YouTube on lettering on cards. It is not exactly a handwriting program, but I think we need to do more card and letter writing. 
Development of Handwriting Speed and Legibility in Grades 1-9 (1998) by S. Graham, V. Berninger, N. Weintaub, and W. Schafer. A widely cited study. 
Pens and Writing: "The Twenty-Six Old Characters" 1947 W. A. Sheaffer Pen Company. This is a very informative video on the origin and development of the fountain pen. Of all writing instruments ever invented, the fountain pen remains the apex of human achievement. 
Why handwriting is so important. A superb video on the importance of handwriting. 
Which to Choose: Manuscript or Cursives: A Review of the Literature (July 2012)
Benson Handwriting with Integrated Language Arts. This looks like a good handwriting program. It is very close to Zaner-Bloser. 
Polishing your penmanship with Barbara Nichol. A very interesting YouTube. 
Practical Penmanship: Left Hand Cursive
Let's Practice Cursive: Fundamentals. 
Manuscript Handwriting (1945) a Research Study. 
Here is a link to one of my favorite fountain pens. ONLINE Switch Plus Fountain Pen. 
Here is a sample of chalkboard cursive in 1917.
5 Steps to Improve Your Cursive Handwriting, (2018 YouTube Video)
The wider impact of high quality penmanship in primary schools. The Quirky Teacher. 
Script and Scribble: The Rise and Fall of Handwriting (2009) by Kitty Burins Florey. This is essential reading for all lovers of fined penmanship. 
Teaching Students with Dyslexia and Dysgraphia: Lessons from Teaching and Science (2009) by Virginia W Berninger & Beverly J. Wolf. Some really good, up-to-date information. 
Development of Graphic Skills: Research, Perspectives and Educational Implications (1991). 
Teaching Handwriting: Don't forget our lines! A unique Video on teaching manuscript. 
The Effect of Time of Change-Over from Manuscript to Cursive Writing on Handwriting Speed and Legibility by Sylvia Louise Thomas (1966)
Current Knowledge about Instruction in Letter Knowledge, Phoneme Awareness and Handwriting: What to Teach, When to Start, and Why to Integrate (Oct. 28, 2021) by Susan Brady. 
YouTube recommending cursive handwriting instruction books. 
Brain research shows why we handwriting should be taught in the computer age with research from Karin James and Virginia Berninger. With articles like this, I have to wonder why NONE of my tutoring students an write manuscript or cursive when before tutoring with me for reading problems. To me the connection is clear! 
Know Better, Do Better (2019) by David Liben and Meridith Liben. The link is to Chapter 1: Letter Recognition and Alphabetic Knowledge, which I consider perhaps the most important chapter in the book. The neglect to teach the alphabet is the most egregious fault in modern reading instruction. 
Manuscript Writing Present Practiced and Extension Trends Within Schools of the State of Washington (1956) Master's Thesis.by John W. Wingate, Jr. 
The Use of Cursive Writing in a Digital Age: A Mixed-Methods Analysis of the Differences Between Modes of Transcription in Private Schools (2018) by Tony D. Ruff.
"The Importance of Cursive Handwriting Over Typewriting for Learning in the Classroom: A High-Density EEG Study of 12-Year-Old Children and Young Adults" (July 28, 2020) by Eva One Askvik, and F. R. van her Well and Audrey L. H. van her Meer. Mention in Oct. 2, 2020 Psychology Today article, "Why Cursive Handwriting is Good for Your Brain." why Christopher Bergland.  
The Relative Merits of Cursive and Manuscript Handwriting  (1931) by Thelma G Voorhis. A study that probably contributed to the demise of cursive-first in American Schools The study indicated that kids did better learning manuscript first.
Stepping Into Handwriting for Students Studying Elementary Education (2012) by Jan Z. Olsen. This is not the method I use, but contains valuable information.
The Palmer Method of Business Writing (1915) A. N. Palmer 
The Teaching of Handwriting (1964). Some excellent advice on teaching manuscript handwriting after the British style. 
Traditional Manuscript: Skill Builders (2003, 2004) Clareen Arnold. Rainbow Ridge Publishing. Teaches the manuscript alphabet in ABC order, which is my preference. Unfortunately, this book is no longer in print. 
Understanding how the brain controls drawing and handwriting

By Pam Versfeld, Physiotherapist
Experienced handwriters can write a sentence without needing visual guidance. This is because fluent and efficient handwriting is produced with minimal need for visual feedback.
Visual monitoring of handwriting is important for positioning of handwriting on the page and keeping the writing in a straight line.
Letters are formed by a series of small movements called strokes.
The pattern of strokes needed to form a letter are store in the brain as a motor plan.
The motor plans (also referred to as representations) for letters contain information about the relative length, direction and sequence of the strokes needed to form each letter.
Well learned motor plans control the direction and sequence of strokes without the need for feedback for completing the movements with reasonable accuracy.
Handwriting movements occur to fast to rely on feedback for controlling each letter.
The movements (strokes) used to form letters are pre-planned and very rapid. In fact the speed of fluent handwriting is so fast that they are completed before any information from the muscles or from the vision reaches the brain.
In fluent handwriting each letter is pre-planned and the movement is carried out without the need for visual monitoring or feedback from the muscles. In fact research has shown that after the first few months of handwriting young children not only re-plan letters, but have started to pre-plan whole syllables.
The equivalence factor: writing big or small uses the same motor plan
Learning to print letters is all about learning the motor plan for the letter.
Learning to write a letter is a process of learning the relative length, direction and sequence of the strokes that form the letter and storing this information in the brain as a motor plan for the letter.
 When a letter is well learned seeing an example of the letter (grapheme) or hearing the letter (phoneme) will call up the motor plan for writing the letter. 
 With repeated the practice the link between seeing, hearing or thinking about a letter becomes more direct, efficient and faster and requires no attention. 
When learners have acquired the motor plan for a letter they are able to write the letters without hesitation.  Learners who have not developed a direct link between the letter and the motor plan will hesitate before writing a letter. 
 Tracing letters inhibits learning the motor plan
Tracing letters or writing a letter guided by an outline of the letter can only be done with any degree of accuracy by using visual monitoring of the movement of the pencil tip. To do this the child uses a series of short strokes to make sure that the line they are drawing stays on the line (or between the lines) on the page.
This has two consequences: children get into the habit using vision to monitor their actions and they do not learn the motor plan for the letter. Tracing is a bad idea - and should be banned from handwriting programs.
Important Information from Randy Nelson
Peterson Directed Handwriting 
Good discussion and good point Don, and it lends to Bob's comment about words being recognized as "units" as well. There is now scientific evidence of the impact of fluency on processing of written language.
 Recognition of words as "units," I call them instant words, depends upon how the child is processing the forms. Fluent children are able to handle the transcription task (guiding the pencil or fingers on a keyboard) automatically because they have good dynamic information stored in the muscle memory, and they have learned how to tap into the system. That ability can be taught, or it might possibly emerge for some as a result of repetitive application in lots of writing experiences.
 Those students who are not given the kind of instruction and practice opportunity that will result in learning how to tap the motor system for transcription, are stuck with processing the symbols visually. That is what causes the problems with learning to spell and compose.
 There is very little memory associated with the visual processing system and what there is tends to be short lived. Processing visually demands cognitive processing power. That has been shown with fMRI. The result is a reduction in the amount of processing power available for generating text. Application of the skills for composition, spelling, sentence structure, and even remembering vocabulary for better word choice is diminished relative to the amount of processing power needed for visually guiding the pen, pencil or keyboarding process.
 It boils down to a rather simple formula. A child who can write the letters fluently and legibly has learned to use the motor system and the patterns stored there. That child is much more likely to be able to store movement patterns for all of the words as they are presented and used.
 The muscle memory communicates with the muscles by sending batches of movement information. That batch can contain all of the movements needed to produce a letter, and it can contain all of the movements needed to produce a word; an instant word, one that is recognized as unit or whole and written as a unit or whole.
 There are essentially two ways to develop this instant-word database in muscle memory. We can conduct regular training/practice sessions aimed at establishing the word patterns, or we can provide constant opportunity for application of the new words in the hope that a successful pattern will be established.
 Frankly, I don't think either of these situations is occurring in most of our classrooms. Filling in the blanks on countless worksheets is not real application. And, despite the fact that spelling tests are generally written, the ability to write a new word fluently is not really part of the objective for spelling lessons. The ability to name the letters in the correct sequence does not indicate mastery. And, independent practice, like writing each new word five or ten times, is usually not effective either. That's is due to the fact that the independent work usually winds up being visual processing or drawing practice. The muscle memory is always working, but this visual processing practice causes it to record very poor dynamics. 
 When the brain does reach out for the muscle memory, the information stored therein, determines the legibility of the product on the page. I suspect that a nationwide survey of adults would reveal that the vast majority will say, "I can write neatly if I take my time." Most would also agree with the idea that people who can write legibly with fluent ease have some sort of natural athletic gift.
 That may well be true, but they may also have been lucky enough to have a grade school teacher who took the time to teach good handwriting skills and fluent movement for spelling and vocabulary words. They might have been lucky enough to have a grade school teacher who insisted that they write sentences to define new words instead of filling in the blanks on a worksheet. [The preceding information is from a September 2012 Linked In post.]
Learn Cursive Step-by-Step with Randy Nelson of Peterson Handwriting 
Trailer: Invitation to HandwritingMan Channel
Lesson 1: Four Basic Strokes (sharp top, loop top, round top, roll top) Letters i & e
Lesson 2: One Step Letters t & i - Sharp Top: Letters t & i
Lesson 3: Two Step Letters s & u, Start-slant-curve = s; sharp-top, sharp-top = u. us, use
Lesson 4: Odd Top Letters c & r.  Rock-hook-slant = c; Rock-roof-slant = r. cure, rice, crust
Lesson 5: Good Writing Position. 
Lesson 6: Word Writing Adventure 1: us, use, rest, sell, ice, cure, letters, 
Lesson 7: More Letters for Word Mastery: loop-tail-rock = f,
                 Round Top: x, n, m:                  round-top-cross = x.
                                                                  round-top, round-top, space = n;
                                                                  round-top, round-top, round-top, cross = m.
                  if, fix, mix, fun, men, mine, 
Lesson 8: Combination Tops: p, h, & k.  sharp-tail-round-top-space =p;
                                                               loop-top-round-top-space = h.  
                                                               loop-top-round-hook-slant-space = k    
                 pet, hip, kick, pick, flip, slip, nest, much, helper
Lesson 9: Lowercase a, d, and q. roll-top, sharp-top = a
                                                    roll-top, sharp-top = d
                                                    roll-top, sharp-tail = q
Lesson 10: Lowercase b, o, w, and v.
                      
RPS: Reverse Position Sensation. Mr. Nelson discusses a 2012 study that indicates that Reverse Positioning Sensation can lead to learning difficulties, but is easily remediated. Well word considering. 
Journal of the Simplified Spelling Society.